Please don't tell me it's true?
You weren't actually considering using Squarespace for your website, were you?!
Don't be fooled by the sleek design and carefully crafted visual interface. If you want to build a serious online presence, Squarespace is not the way to do it.
As someone who's used multiple content management systems over the years, I feel compelled to write this guide for those of you that may be new to all this online stuff.
So here's what you can expect in this compact guide to Squarespace VS WordPress:
What is Squarespace?
Squarespace is an all-in-one website builder that allows anyone with basic computer skills to build a pretty impressive-looking website.
They're one of many website builders that have surfaced over the years, promising buckets of functionality with a small learning curve.
Squarespace operates a SAAS (Software as a service) business model. This means you pay a monthly fee for access to their platform but everything you need to build and maintain your website is in one place.
So this means you have a content management system, website hosting and support all under one roof.
Can you see how attractive this is?
Admit it. You're tempted!
But I'm going to show you why the convenience of platforms like Squarespace is outweighed by the painful lack of functionality.
And this is important because the last thing you want is to be forced to switch website builders 6 months down the line!
What is WordPress?
WordPress is the father of the content management system, launching in 2003 and now powering over 30% of the entire web (60.2% of the CMS market).
Unlike Squarespace, WordPress is free and open-source, meaning hundreds of people all over the world contribute to consistently improving the tool. More importantly, it means you have the freedom to use the platform for anything without paying for a licence.
WordPress is built for the people, by the people and is maintained by a thriving community of developers globally.
It started off as a tool used primarily by bloggers but over the years has evolved into a full CMS used by many popular websites such as The New York Times, Disney and Lonely Planet.
The two versions of WordPress
WordPress has two versions. The first version, WordPress.com allows you to host a website through the WordPress domain, this is called a "hosted" website.
The second version "WordPress.org" is the "self-hosted" version where you purchase your own domain and install the WordPress CMS on top of it.
You'll want to stay away from "hosted" websites if you're serious about building your online presence.
Let's have a quick look at the main differences between "hosted" and "self-hosted" websites…
"Hosted" websites
Hosted websites are owned and operated by the parent site they are hosted on. Some examples of these platforms are Blogger, Tumblr and of course, WordPress.com.
Typically you'll notice a hosted blogging platform through the website address. These websites usually include the parent site in the domain name.
For example:
bengu.blogspot.com

cookingfun.tumblr.com

monstertruckwheels.wordpress.com
Starting a website on these platforms is easy and straight-forward but unfortunately, the drawbacks make this option a non-starter for most people…
Lack of ownership – owning a hosted domain means you don't really own your domain. Because they're free, they're all owned and managed by the parent website – at any point in time, they could take down your site and jeopardise all your hard work, without notice.

Unprofessional – for people looking to build a serious business, having a self-hosted blog is just not an option. It looks rather amateur having ".blogspot" at the end of your domain name. Anyone that checks out your site will know it's a free website.
You also don't have much choice when it comes to design. Most hosted platforms lock down their custom design features so you'll be stuck with the basics.
Avoid avoid avoid!
"Self-hosted" websites
Self-hosting your website is taking full ownership and responsibility for your domain.
Owning a self-hosted website means you have full access to all your site files, including the servers where these files are stored.
With this type of setup, you have the freedom to decide exactly how your site is built from the ground up. And you won't be burdened with the rules and limitations of a typical "hosted" website.
But with this freedom comes the responsibility to manage your site effectively. You'll be in charge of things like backing up your website, keeping it up to date and troubleshooting any problems that come up.
However, many of these responsibilities can be managed fairly easily or handled by a managed hosting provider (more on that later).
This post will be comparing Squarespace with a self-hosted WordPress website.
Understanding the differences between Squarespace and WordPress
Squarespace and WordPress are very different in terms of features offered and how they fit into your website creation and management.
Let's kick things off with the new kid on the block…
Squarespace
Squarespace operates a sandbox model where you pay a monthly fee to have access to their platform. The temptation of this software is how simple and straightforward it is to get started.
Creating a website with Squarespace involves using a simple "drag and drop" page builder…
The builder is designed to make it as simple as possible for anyone to create a website in a short space of time.
One of the main differences to note about Squarespace is their "walled garden" approach to building a website. Everything from version updates to templates and integrations is managed internally by the team at Squarespace.
This approach offers increased simplicity at the expense of feature limitation and flexibility (which you'll learn more about in a minute).
WordPress
WordPress is a CMS that you install on a domain name you've purchased. Think Microsoft Windows but for your website.
Themes, plugins and widgets allow you to customise and extend the functionality of your site to build something that meets your exact requirements.
Crafting content is done in the WYSIWYG (What You See Is What You Get) editor.
This editor offers many powerful features for creating and tweaking your content. Most of these features will be familiar to you from other Word Processors — things like adding bullet points, changing the font size and bolding your text.
WordPress makes it easy for total beginners to build a site without touching a line of code but at the same time offers advanced functionality that experts use to build complex websites from the ground up.
While WordPress is totally free to install on your domain, there are some costs associated with a self-hosted website setup.
You must purchase your domain name and website hosting (which is required to install any type of CMS on your domain).
Without hosting, you won't have anywhere to store the files that make up your website.
Squarespace VS WordPress — how do they stack up?
Squarespace is one of the larger contenders when it comes to WordPress competitors. They've increased their market share from 0.5 to 0.9% in the past year alone.
While this number may seem tiny compared to the 30% lion share WordPress owns, they've still managed to grow by a statistically significant 80%.
Still, these two platforms share way more differences than similarities — let's break down some of the main features offered on both sides…
Squarespace VS WordPress — Ease of use
One of the main barriers to entry for building a website is the technical knowledge required to get things up and running — thankfully both WordPress and Squarespace are newbie friendly and don't require coding knowledge.
But how do they compare against each other?
Squarespace
If you're looking for the simplest way to build a barebones basic website, Squarespace wins.
Then again, WordPress also makes it easy for you to do the same thing — just not as easy as Squarespace does.
Building your website with Squarespace involves fewer steps because they host and purchase your domain name for you.
So after you sign-up, you're almost instantly prompted to select your template for how your website should look:
After selecting your template, you can crack on with making changes to your pages — adding images, text blocks and anything else that tickles your fancy.
Squarespace uses a drag-drop style builder that's similar to many landing page platforms (like Clickfunnels).
You can drag various elements such as text boxes, forms and videos to where you want them on the page.
The platform has clearly been designed with beginners in mind, catering to people that don't want to touch a line of code.
WordPress
Getting started with WordPress requires signing up for web hosting and purchasing a domain name separately. At first glance, this may seem fairly long-winded (especially if you're totally new).
But you'll find that these extra steps are well worth it for the additional flexibility provided (more on that later).
I actually created a guide to starting a blog using WordPress, that's uber simple and easy if you're interested.
Once you have your domain and hosting, you'll need to install WordPress on your website. Once installed, you can start making changes to your site immediately.
One of the first changes you'll want to make is your WordPress theme:
These themes can be compared to the "templates" that Squarespace offers.
But WordPress wins in this regard as you have over 3187 free themes to download compared with only 92 offered by Squarespace.
What's more, many WordPress themes come built-in with drag and drop page-builder functionality. So you can have uber simplicity along with the advanced customisation features.
Creating content for your site is done in the visual editor:
As you can see, WordPress uses a familiar interface that can be compared to common Word processing software we've all used before.
The biggest difference between Squarespace and WordPress editors is how your content is displayed on the page.
With the WordPress editor, you make your changes then hit the "preview" button to see what it looks like on the front-end:
In Squarespace, you make changes in context on the page, so you see exactly how things look as you make the changes.
Related Content: Looking to start your own blog from scratch? Check out this guide on setting up your hosting, CMS and everything else in under 60 minutes.
WordPress VS Squarespace – Flexibility and customisation
One of the most important parts to deciding on a website builder is how flexible and adaptable they are to your requirements.
And this is where we'll discover some major differences between the two popular platforms.
When it comes to the level of control and functionality, WordPress is the clear winner.
Why? Because it boasts a gigantic library of over 54,000 plugins that let you customise your site to your heart's content — while Squarespace is limited by the small number of integrations and lack of third-party contribution.
Let's have a look at some of the specific features of each platform:
Plugins and integrations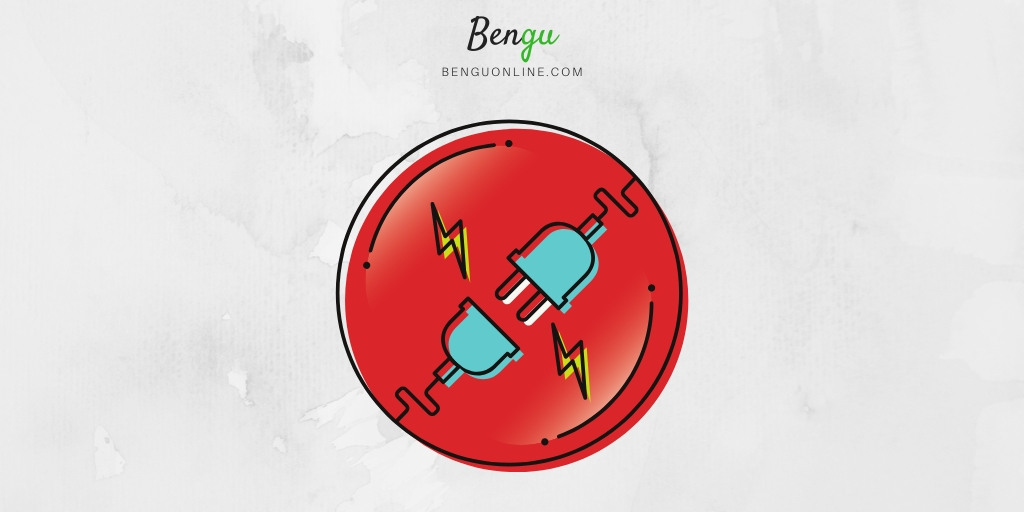 Plugins are a way for you to add features and functionality to your WordPress site without having to write dozens of lines of code.
Think of installing a plugin like downloading an app for your phone.
And there's one for just about everything, from speeding up your site to stopping spam and backing up your content.
I can't tell you the number of times plugins have saved my life. And with over 54,000 of them in the WordPress.org library, you can be sure there's a plugin for almost any feature requirement.
Case in point: 
Let's say you wanted to incorporate drag and drop functionality into your WordPress website. All you'd need to do is install one of the many high-quality page builder plugins/themes out there:
On the Squarespace side, you have something called Integrations. This is their version of WordPress plugins. But with only 42 of them (excluding social media as they don't really count) you're going to struggle to extend the functionality of your website.
For example: 
On Bengu, we use Unbounce for landing pages, popups and sticky bars, and Convertkit for email marketing.
Here's what Squarespace supports for marketing integrations:
Now, this doesn't mean we cannot integrate Unbounce or Convertkit because there ARE workarounds you can use, but the horrid lack of supported integrations makes it more complex and time-consuming to add functionality to your site.
Themes and templates
Themes determine the front-end styling of your website as well as the range of customisation options available on the back-end.
A WordPress theme usually alters things like font styling, page layouts and a variety of other stylistic details.
Unlike Squarespace templates, WordPress themes are developed by people all over the world, resulting in thousands of them that you can use for your website.
This is why WordPress has so many more themes available compared with Squarespace templates. And while the templates are modern and beautifully crafted, you're limited to a measly 14 of them if you're looking to set up an e-commerce store through Squarespace.
You'll also find that the template categories are way more generic compared to the granular offerings with WordPress.
For example:
For WordPress you can find specifically built themes for wedding planners, interior designers and coaches/consultants — not something you'll find in Squarespace:
Generating leads (lead capture forms)
Whether you're launching your first blog, advertising your agency services or selling the latest hair-care products, you'll probably be collecting emails to build your list.
Collecting subscriber details through WordPress is a cinch.
Many WordPress plugins (like Gravity Forms or Caldera) integrate directly with email service providers and benefit from additional functionality (such as multi-step forms, file uploads and redirections) that you won't find with other website builders.
Unfortunately, Squarespace doesn't do a great job at incorporating lead capture features into their platform.
You're limited to Google Sheets and Mailchimp for supported form integrations and the pop-up box feature doesn't allow you to include basic additional form fields (such as name or phone number):
This is disappointing considering the importance of effective lead-capture forms for any online business.
Backups and data export
Backups and data exporting are two things that are often overlooked when considering a website builder solution.
But neglecting these details can be a recipe for disaster over the long-term, so let's explore the basics offered on both platforms.
WordPress provides a number of options for backing up and exporting your data.
You can:
Manually save your database and content files to your PC through FTP.
Install a plugin that automatically backs up your website files.
Use a managed WordPress hosting provider that takes care of your backups for you.
In terms of exporting your content, you can easily download an XML file from your dashboard which can be imported back into any other WordPress website:
Squarespace currently offers no way for you to backup or export your website files. They maintain backups of your site on their servers but it would be nice to have the option to perform your own backups for extra safety.
For data exporting, they recommend you manually copy and paste your content into a Google doc and keep original image files locally on your machine.
Not what you'd call robust.
Moreover, they offer no FTP solution so you don't have a way of accessing your website files like you do with WordPress.
So you can forget about ever switching platforms if you decide to go for Squarespace!
Uploading media
WordPress is home to a media library that saves your image, video and audio files you upload to your website:
This handy feature saves you time by allowing you to bulk upload images, and store them in the library for future use.
Squarespace offers no media library feature so you'll need to keep a local copy of everything uploaded to your site in case you need to make any future changes.
While this isn't a major issue, it can be frustrating not having a central location to access your uploaded files.
Optimising your images is also a no-go in Squarespace, while with WordPress, there are a number of ways to tweak images for a site speed boost.
Content management
The content management features WordPress offers are far superior to Squarespace in a number of ways.
First off, WordPress offers content versioning. This means you can store all the previous versions of your posts/pages and roll back to them at any point.
Squarespace does not allow you to do this and surprisingly lacks basic auto-saving features too.
There's nothing worse than spending hours crafting content and forgetting to hit save, only for your laptop to freeze and lose all your precious data!
We've all been there.
Secondly, the WordPress visual editor allows you to toggle between raw HTML and WYSIWYG editor:
This can come in really handy for making basic HTML tweaks like removing awkward line spacing or adding a "nofollow" attribute to a link.
While Squarespace provides "code blocks" for you to add custom HTML, they don't give you direct access to the HTML behind your posts and pages.
Finally, WordPress widgets allow you to further customise the design and structure of your website. Widgets can be added to the header, footer and sidebar with the most common location being the latter.
Popular widgets include social sharing icons, opt-in forms and custom HTML (where people usually add linked images).
Here's what sidebar widgets typically look like:
Search engine optimisation
The ability for a site to rank for target keywords in Google is crucial.
Squarespace covers the basics with clean HTML markup, automatic sitemaps and easy-toggle AMP (makes your mobile site more search engine friendly).
But with WordPress, you can take things to the next level by installing dedicated SEO plugins.
One of the most popular plugins is called Yoast, which offers a wide range of features that can be used to optimise your pages.
SEO plugins help you tweak your post meta description, bulk edit blog post titles and benchmark your content.
WordPress also gives you more control over your website speed — something that Google looks at to determine where it should rank a page.
If your site is painfully slow, you have the choice to switch your hosting provider and tweak your code based on recommendations from the Google Pagespeed Insights tool.
But with Squarespace, you're stuck with their shared hosting and don't have anywhere near as much flexibility when it comes to tweaking your code.
WordPress VS Squarespace – Ongoing maintenance
When it comes to ongoing maintenance, WordPress requires more of a time investment compared to Squarespace.
Why? Because all that flexibility and customisation comes at the price of you also managing your updates.
But don't worry, you won't need to do anything too technical to keep things running smoothly.
WordPress updates the system once every few months, so depending on how you've got things setup, your website will either update automatically or wait for you to give it the green light.
Aside from that, you're responsible for updating your plugins and keeping your site backed up. This will require some testing on your part if you're doing updates yourself as sometimes plugin updates can break your site.
This is why backing up your data is important so you can roll back in case anything like this happens.
If you don't have backups, you can always use FTP to access your site and delete the problem plugin manually.
Squarespace requires very little in the way of ongoing maintenance, which is great. Part of the service they provide is keeping your website up to date and backing up your content (although they don't allow you to access these backups).
Squarespace VS WordPress – Pricing
WordPress is totally free to install and use on your domain but there are a number of associated costs related to self-hosting your website.
Getting your website up and running requires two things:
A domain name.
Website hosting.
Your domain name will typically cost you between $10-20 per year.
Hosting ranges from around $4 a month for shared hosting to $100+ for managed WordPress hosting.
You're also going to want to purchase a premium theme if you're serious about building your online presence. Premium themes are loaded with more features and functionality to help you achieve the look and feel you want for your site.
These themes don't cost much — here on Bengu we use a theme called Avada, which cost us around $50.
You've then got premium plugins, but for the most part, you won't need any of these as there's so much high-quality free stuff out there (we don't use any premium plugins).
Squarespace pricing depends on how you're looking to use the software.
For a website it'll cost you either $16 a month for the "Personal" plan or $26 for the "Business" plan (prices below are based on annual plans):
The personal plan is very limited in terms of features. You'll get even less access to the already finite integrations and won't have access to important website metrics such as traffic sources.
For online stores it's $30 or $46 bucks a month:
I'd avoid Squarespace for e-commerce as there are so many other dedicated solutions (like Shopify or Bigcommerce) that offer way more in the way of features and add-ons.
The upside to Squarespace pricing is how it's all simplified into one payment. Aside from that, there's isn't much in the way of cost advantages!
Related Content: How to Start a Blog From Scratch: Ultimate Guide (2020)
Other reasons why WordPress is superior
Perhaps you're still tempted to use Squarespace as your website builder — but the bottom line is that WordPress is superior in many ways.
Yes, the learning curve is a little longer and yes, you'll have to spend more time managing your site but this is minor compared to the huge difference in flexibility and functionality.
Here's why you should seriously consider WordPress over Squarespace for your website:
Reason #1 — Unlimited websites
Creating a website with WordPress doesn't cost a thing. This means you can create as many sites as your hosting plan allows without incurring additional costs.
That's the beauty of having a free CMS!
WordPress also has a multi-site feature, which allows you to host multiple websites under a single WP installation.
On the flip side, when you sign up for Squarespace, you're limited to one website. If you want to create another site, you'll have to pay for another subscription.
Booooo!
Reason #2 — Your content can't be used without your permission
WordPress cannot publish on your site for free or without permission.
Squarespace, on the other hand, can use any part of your site for marketing, without your permission, even if your content is copyrighted!
By creating an account with these guys, you agree to their terms and conditions, which consents to them using your content — for free.
This is stated in their Terms of Service in section 2.2 and 2.3
Reason #3 — Established companies trust WordPress
WordPress is used by all manner of businesses, organisations and individuals. Some of these sites include PlayStation, Time Inc,  LinkedIN, the Obama foundation and thousands more.
You can see a list of featured WordPress websites in their showcase.
Squarespace doesn't have anywhere near as many high-profile businesses using their platform. And most of the logo's displayed on their homepage are from small businesses.
Reason #4 — You actually own your website
Wait, what?!
I know it sounds crazy but purchasing a domain through Squarespace means you won't legally own it.
Let me explain: 
Some domain registrars state that the main contact specified in the WHOIS record owns the domain.
When you opt-in for domain privacy, your registrar is listed as the primary contact, which means they legally own your domain.
You have the option to choose the registrar when you self-host your WordPress site. So you can shop around for one that offers WHOIS privacy and also lets you own your domain.
But the free domain you get with Squarespace automatically applies WHOIS privacy and is owned by Tucows Inc (as stated in section 11.1 of their terms of service).
Now Tucows Inc state in their terms of service (section 21) that the main contact of a registered domain is the owner of it.
And since Squarespace automatically apply WHOIS privacy to any domain registered through them, they legally own your domain.
Reason #5 — Features don't get pulled without notice
As mentioned earlier, the WordPress framework gets updated periodically for feature improvements, security updates and bug fixes.
Changes to the software are suggested, reviewed and approved before they are made. Also, every change is well documented and announced before anything is applied.
For more information, you can check out Make WordPress and WordPress Trac.
Contrary to WordPress, Squarespace can discontinue or remove features at any time without prior notice, as stated in section 4.1 and 6.1 of their Terms of Service.
Worryingly, they can also terminate, suspend or restrict access to your website without notice.
And while the chance of your site getting restricted in some way are pretty small — it doesn't fill you with confidence.
Bringing it all together
WordPress is the king of the content management system, wouldn't you agree?
It's free. It's open-source. It's powerfully flexible. And it's unmatched by anything else when it comes to building a website without limitations.
Despite all the downsides we've covered on Squarespace,  there are a couple of cases where it would make sense. If you're an artist or a photographer and you just want to use your site to upload and showcase your work, it'll do a great job.
Aside from that, my vote goes to WordPress all the way.
If you're interested in building a site from scratch using WordPress, you can check out my complete guide to starting a blog.The guide walks you through step-by-step on how to define your vision, find your niche, setup your domain name, hosting and all the rest of it!
So what's it going to be? WordPress or Squarespace?
The choice is yours.
I'm a London-born lover of technology, obsessed with online business, passive income and the digital economy. I love learning, researching and curating the most valuable resources to save you time, money and help you discover the truth on what it actually takes to achieve your goals.