So you think you've got what it takes to make it big as an affiliate?
How do you stop yourself from being among the majority of marketers that barely make a dime online?
When I first started blogging as a total newbie in the world of digital marketing — I spent months pouring my heart and soul into my content hoping things would take off:
But I failed. Miserably.
Why?
Because I was promoting products I couldn't relate to at all.
I'd judge a product solely on how much commission I'd make per sale. Forget about adding value, serving people and doing great work — I wanted to make it rain. But this made it painfully laborious to create compelling content. If I didn't value the stuff I was writing about, how would anyone else?!
People fail at affiliate marketing for many reasons — from entitlement issues and promoting terrible products to a lack of consistency and focus.
But a few simple things separate the super affiliates of this world from the rest:
A proven marketing strategy that works.
That's one thing you'll learn in this blog post.
Here's what else we'll cover in this article:
Plenty of juicy material to plough through so let's begin! 😄
Why Super Affiliates are So Successful
Successful affiliate marketers don't waste time dabbling and dipping their toe's into things. They maintain deep focus and remain consistent over a long period.
When it comes to marketing strategies that work, finding the right affiliate program with a lucrative commission structure is the name of the game.
Elite level marketers don't waste time promoting products that produce one-off $20 commissions.
Instead, they align themselves with high paying affiliate programs.
These affiliate programs offer products/services that net huge one-off or healthy recurring commissions. And they're the bread and butter for the super affiliates of today.
With that being said, even the best affiliate programs don't promote themselves.
Successful marketers share the following common threads:
Affiliate Commission Fundamentals
Let's take a deep dive into the commission structures that make some of the best affiliate programs.
If you want to become a champion in the affiliate space and build a sustainable long-term business, you need to remember this one word:
Diversification.
Most marketers affiliate income is generated from a range of quality programs.
There are two main types of commission you should be aiming for as an affiliate, these are:
High-ticket product commissions
These products are typically sold on the back-end of a sales funnel and cost upwards of $1000.
It doesn't matter how good you are at marketing, if you're spending your time promoting $20 products with no future upsells, you'll struggle to build a profitable business.
For example:
Let's say you're going for a million dollars in a year.
To achieve this, you'll need to sell 50,000 copies of a product that costs $20.
Fifty thousand!
On the flip side:
If you're promoting a product that costs $1000, you'll only need to sell 1000 to make one million dollars.
If the product costs $4000 the number goes down to just 250.
Pretty powerful stuff right?!
Remember that good marketing can't overcome bad maths.
Recurring commissions
These types of commissions are powerful.
Imagine referring someone once to a subscription service and getting paid every month for the lifetime of the customers' subscription.
For example:
Every month I pay for an email marketing service called Convertkit. An email marketing software for creators. And my plan costs me around $100 a month.
In terms of programs, Convertkit pays 30% lifetime commission for customer referrals.
This means if you referred 100 people at $100 a month, you'd be earning $3000 a month.
While this isn't a huge amount of money, it compounds over time. And you'll keep earning that $3000 every month passively as long as your referrals stay signed up.
Related Content:Learn about the true power of compound interest (Einstein called it the 8th wonder of the world) in this post on the best ways to invest 10000.
Finding The Best Affiliate Marketing Products to Promote
How do you measure the value of affiliate programs?
Here are some markers to help you find the best:
How popular is the product?
You can't judge the quality of a product based on the commissions you'll receive.
You'll find plenty of high paying affiliate programs out there for poor products.
Research the product before you consider promoting it. Check out the merchant website. Read online reviews. Google their brand name.
If no-one is buying in the first place, you're wasting your time.
Commission structure
What's the percentage of commissions they're paying? Do they offer high-ticket commissions? What about recurring monthly payments?
Is it going to be financially viable for you to spend time promoting the product or is there something similar that pays higher commissions?
It's also worth looking at the industry average commission percentages for your chosen programs. Most businesses tend to follow their competitors closely when it comes to partner programs.
Cookie duration / Cookie life
A cookie (in computer terms) is a piece of information that is stored in your browser. This information helps businesses track and attribute sales of products to the marketers that promote them (people like you and me).
Cookie duration (or cookie life) refers to the length of time a tracking cookie is valid.
For example:
A 30-day cookie means a prospect would have 30 days to purchase a product after they clicked one of your affiliate links. After 30 days pass, any sales would no longer be attributed to you.
Make sense so far?
Lifetime and "sticky" cookies mean you'll be paid every time a customer you referred makes a purchase. In many cases, this still applies if someone cancels their membership and rejoins after a few months.
How cool is that?!
On the flip side, other cookies aren't so scrumptious. Some only last for a few days and cover first purchases only, *cough* Amazon *cough*.
Backend/upsell products
Affiliate programs that have backend/upsell products can multiply your earnings many times over for doing the same amount of work.
The backend (otherwise known as Bottom of The Funnel or BOFU) is where many businesses make the most money.
Let's say you purchase an e-book on how to overcome anxiety:
After the purchase, the product owner builds a relationship with you through helpful emails that provide a ton of value. He sends you free downloadable guides and enrols you on his social anxiety-busting mini-course — free of charge.
After a week or so, he introduces you to his $2000 coaching program.
A percentage of people that bought the e-book would likely invest in the coaching program.
This is a very rough example but it demonstrates the sheer power of upsell products.
Second-tier commissions
These commissions are special. 😇
Why? Because they're quite rare. And it eats into the profit margin for merchants. But they're great for affiliate marketers!
In a nutshell, second-tier commissions mean you get paid a percentage of sales (typically 5-10%) from other affiliates that you've referred to the business.
So not only can you make money by promoting products and services. But you can also earn a percentage of profits other marketers make through second-tier commissions!
Some affiliate programs offer a one-off payment for bringing on more affiliate marketers instead of percentage sales.
What Are The Best Affiliate Programs?
Time to slice into the meat and potatoes of this blog post, the list of top affiliate programs!
I've done some thorough research and turned over a fair few digital rocks to showcase these affiliate programs for you.
However, this list isn't designed to be exhaustive:
It's more about showcasing programs in different industries and demonstrating what's possible from a commission standpoint. You can decide what's best, based on your preferences.
If you make it to the end, you'll learn how to find your own programs. And have access to some of the best training resources to get you going.
I've broken things down into sections based on industry and created a handy contents guide (below) where you can jump through to your desired part of the article.
Note: I've written a separate article on travel affiliate programs so you won't find them on this list.
Let's get started!
Business, Marketing & Web Affiliate Programs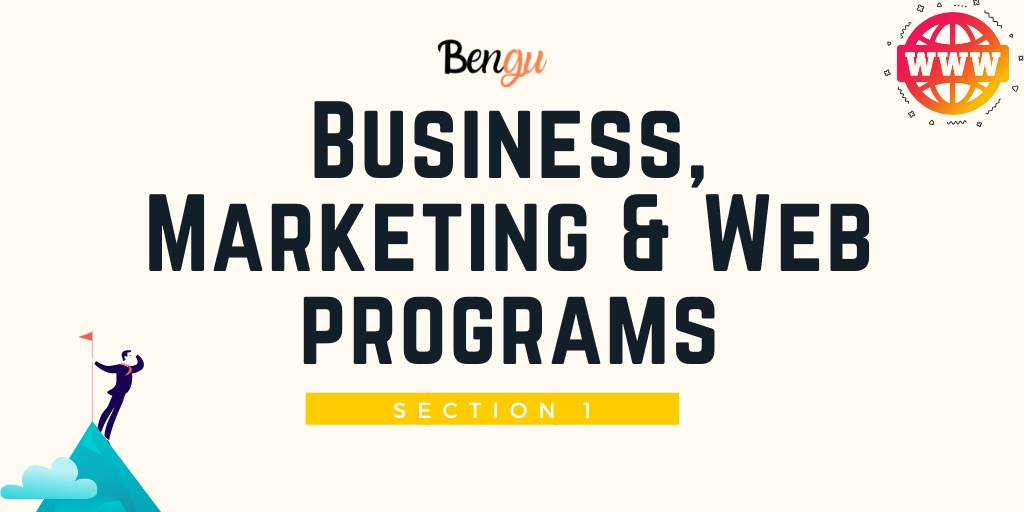 Kicking things off with a bang we have affiliate marketing programs in the Business, Marketing and Web categories. These programs are characterised by high paying as well as recurring payouts.
Businesses in these categories mainly sell software or information products. Which means they have much higher profit margins compared to physical goods so they can afford to be generous with their commissions.
Great news for affiliates!
1. The Six Figure Mentors
The Six Figure Mentors is a training and mentorship platform that prepares you for online entrepreneurship, with a specific focus on affiliate marketing.
They run a platform that helps empower people with the digital and leadership skills they need to succeed through the internet. With a well-respected training program that has been around for years, SFM has helped thousands of people get started online from scratch.
On the affiliate side, you can promote their suite of products to other people looking to gain digital skills or start an online business.
In light of the COVID-19 pandemic, SFM has stepped up their game and released the all-in package. A training bundle designed for anyone looking to transition into the digital economy and learn how to thrive in these trying times.
Noteworthy points:
Access to thousands of courses. Web hosting. Private community.
Lifetime customers. Recurring monthly as well as yearly affiliate commissions.
Up to $8000 in commission per sale! (Yes really).
Related: Check out the Six Figure Mentors review post where we dive deep into the back-end modules, curriculum content and bonuses from the platform.
2. WP Engine
The web hosting industry is lucrative and competitive.
Think about it:
Everyone who owns a website must purchase web hosting of some sort. Hosting works out as a monthly fee with a high customer lifetime value (changing host is a lot of work). Therefore, these companies are willing to pay good money to anyone that can bring them more customers.
WP Engine offers managed hosting for WordPress websites and has one of the best affiliate programs in their industry.
They heavily incentivise affiliate promotion in a number of ways:
A 6-month tracking cookie.
$200 per referral or 100% of the first month's payment up to $7,500 (whichever is higher).
$50 for referring other affiliate marketers to their program.
Bonus monthly commissions ($100 – $1500) on referrals starting from 5 sales a month and increasing as you make more sales.
3. Kinsta
Kinsta is a direct competitor to WP Engine with an impressive affiliate program that incorporates recurring commissions.
I decided to feature Kinsta on this list because they're the first hosting company I've seen that offer recurring commissions on top of the one-off payments you receive for successful referrals.
Granted, the recurring commissions are only 10% but that's 10% more than any other web hosting company offers right now.
One small caveat is their cookie life — at only 60 days, it is 5 months less than WP Engine, which means you could miss out on a bunch of sales.
Noteworthy points:
Exclusive sign-up bonus + recurring affiliate commissions offer.
Sleek affiliate dashboard that's easy to navigate and simple to use.
Super high lifetime value for referrals due to a low customer churn rate of 4%.
4. Teachable
Teachable is a popular platform that helps people create and sell online courses.
With 310,000+ active courses, 124,000+ instructors and over $657 million earned — Teachable is well-established in the course creation space.
They also happen to have an amazing partner program that includes pre-built A/B tested funnels (complete with email swipe copy) that you can send to your email list.
Noteworthy points:
30% lifetime recurring commissions (up to $90 per month for a single customer)
90-day cookie life
Pre-built industry-specific funnels to send to your audience
5. Instapage

Instapage is a powerful landing page platform that helps businesses increase their conversion rate on marketing campaigns.
On the affiliate program side of things, they've recently announced some exciting changes:
50% recurring commissions for the first year of any referral. Then 30% once 12 months have passed.
An astounding figure, unmatched by any other programs in the same space.
Instapage's self-serve plans go for $199 a month ($149 a month paid annually), so you can make up to $100 a month for a single customer referral.
Yes, you did read that right — $100 a month, per customer!
Noteworthy points:
50% revenue share for the first year and 30% recurring afterwards.
Powerful and reliable affiliate tracking software ensures you don't miss out on any commissions.
High customer lifetime value due to low churn rate.
6. Smart Proxy
When it comes to internet privacy, we're talking a deluge of disintegration. Governments, ISP's and creepy internet trolls, tracking our digital activities for various sinister reasons.
VPN's and Proxy services help you remain anonymous online, dodge geo-based price increases and access content unavailable in your country/region.
Smart Proxy offers proxy-based services for businesses in exchange for a monthly fee.
The interesting part?
They pay 50% commission in their affiliate program on price points up to $600 a month.
So you can bank $300 a month for each customer that subscribes to the Advanced plan.
But there's one major caveat — the commissions are only one-off, instead of recurring.
Noteworthy points:
Generate up to $1,500 per sale.
They don't pay commissions for customers that use Cryptocurrency.
30-day cookie life.
7. Hubspot
HubSpot is a fully featured sales automation platform for entrepreneurs as well as marketing & sales teams.
These guys are one of the biggest players in the CRM space and serve as a great example of how quality content can be used to scale a business.
Fun fact:
Their blog receives over 5 million hits in monthly organic search visitors.
Hubspot offers a variety of powerful tools that can be used by marketing, sales and customer service teams.
When it comes down to cost, they've traditionally offered packages priced at several hundred dollars per month but have recently also started targeting smaller teams & entrepreneurs with their $50 per month Starter tier.
Personal Finance and Investing Programs
The personal finance space is huge on the internet.
We've all come across blogs on frugal living, budgeting and real estate investing. People all over the world are sharing their tips, tricks and hacks for us to make the most out of our money.
In the context of affiliate marketing programs, you'll find plenty here that pay per lead instead of/as well as per sale. Think small business loan providers and insurance companies.
Competition in this space is fierce because there's a lot of money to be made with plenty of high paying affiliate programs to choose from.
Let's begin!
8. Kabbage
Kabbage provides small business payment and loan solutions to customers across the United States.
What separates Kabbage from other similar programs is that they pay per qualified lead. For every business that qualifies for a loan, you receive $250. Also, your referral gets a $50 gift card — nothing major but a nice little touch.
This is one of many popular pay per lead affiliate programs with a huge prospective customer base.
Noteworthy points:
Pay per lead instead of pay per sale.
Generous commission of $250.
Unknown cookie life.
9. Gusto
Gusto helps small businesses manage their operations through full-service payroll, HR and time-tracking services.
Their pricing works on a tiered monthly payment that scales based on the level of service required — from core payroll servicing to all-out concierge management.
In light of the global COVID-19 pandemic, Gusto has slashed their prices in half for the first 6 months for new customers.
A thoughtful touch.
Gusto is one of the top-performing affiliate programs on Shareasale at the moment with a crazy $1245.21 EPC (earnings per click).
Noteworthy points:
A healthy $100 payout for every valid small business customer
$50 for every valid accountant lead
120-day cookie window
10. Personal Capital
Personal Capital helps you manage and grow your investment income through data-driven portfolio management. They offer a sleek, intuitive dashboard interface that combines your accounts for a complete picture of your finances.
The affiliate program works on a pay per lead structure. To qualify, the lead must link $100,000 worth of investable assets into the Personal Capital dashboard.
The top marketers for this program are making over $50k per month.
Points worth noting:
Pay per lead affiliate program structure.
Get paid more per lead as you send more qualified leads.
Payments are processed via check, which can be a pain in the ass
13. Capitalist Exploits
Capitalist Exploits offers bleeding-edge investing advice for money managers and anyone looking to make outsized returns on their investments in a short space of time.
Capitalist Exploits runs an "insider" newsletter. This is an exclusive members-only list of people that receive the latest trade investment advice.
This product works on a yearly subscription. And the commissions are juicy:
50% per sale, up to $1750. Glorious!!
Noteworthy points:
50% commissions on products that range from $1575 to $3499.
365-day cookies.
Impressive dashboard with traffic stats along with marketing and training materials.
Related: Looking to increase your passive income streams through lean business-building and smart investing? Check out this post on passive income ideas. 
Gaming Affiliate Programs
Did you know the gaming industry is now worth more than the NBA, NFL, Film, AND Music industry, combined?
That's right — the latest entry into the entertainment ecosystem is now by far the largest in the world. The eSports industry alone regularly attracts more viewers than the NBA, NHL and MLB.
The world of gaming and affiliate marketing are a match made in heaven.
Why? Because the very nature of gaming is one of interaction and engagement. Players are watching, clicking and chatting around mediums they know, like and trust.
Let's have a look at some gaming affiliate programs:
14. Twitch
Twitch is a live-streaming video platform where gamers watch other gamers play their favourite games (I know, I was scratching my head too, haha).
On Twitch, streamers can monetise their audience through monthly subscriptions, sponsorships and affiliate recommendations.
Let me explain:
As a consumer, you interact with Twitch much in the same way as you would on Youtube. You can search for videos, browse through channels and watch live content.
But there are a few key differences:
The content is focused on gamers streaming (though there are other streaming categories) — i.e recording themselves playing games.
You have the option to pay for subscriptions to your favourite streamers.
Twitch bits — virtual gems, emoticons that can be purchased to cheer on your favourite streamers.
Now some of this may sound silly but the top streamers on Twitch are making over $500k — per month.
Yeah — serious money!
Gamers can use Twitch to build an audience and generate an income through subscriptions, Twitch bits and even in-game items.
Noteworthy points:
To become a Twitch affiliate, you must meet certain criteria
Streamers make around $250 per 100 subscribers in ad revenue every month
Serious streamers can make around $5,000 a month, playing 40 hours a week (excluding ad revenue)
15. Zygor Guides
Zygor makes game guides for World of Warcraft — one of the most popular MMORPG's in the world.
The guides make it easier for players to level-up, find hidden treasures and make in-game gold.
They offer a generous 50% commission for any sales you throw their way, which equates to up to $42.99 per customer. They even have a subscription service where you can earn recurring income (albeit not very much as it's only $8 a month).
Noteworthy points:
A previous top performer on Shareasale affiliate network with a high power rank
$40.31 average earnings per click
60-day cookie life
16. Razer
Razer sells all manner of gaming gear — from high-powered laptops to headsets and even gaming software. They're a popular brand in the gaming industry and a go-to for many hardcore players.
The Razer affiliate program pays between 3-10% on products. This is a small number compared to other items on this list but physical products tend to have much lower commissions due to increased overheads.
Noteworthy points:
Commission rates vary based on the promotional method
Popular for Twitch streamers
$14.75 average EPC
Physical & Other Affiliate Marketing Programs
Physical affiliate programs can be lucrative. Don't let the lower commissions fool you — they make for much easier sales and can be sold at volume.
With that being said, you must choose carefully.
For example — Amazon treats their affiliates like shit, so their Associates program is a complete waste of time. They have repeatedly lowered commission rates for various product categories for some time now.
Let's have a look at some physical affiliate programs, along with one or two special mentions:
17. Organifi
Organifi is a food supplement company that offers a subscription-based model for its products. They've created a whole range of whole-food plant-based supplements, from their flagship "GREEN JUICE" powder to complete protein and probiotic supplements.
I love that all Organifi products come with a concrete 120-day money-back guarantee (even if you ship them an empty bottle).
This shows confidence in the quality of their goods.
Their Green Juice product alone has sold over $30 million worth of units. They've totally sold out over seven times — people love the green stuff!!
The commission structure includes recurring commissions. This is rare to see for a physical product!
Points worth noting:
Lifetime commissions paid out on subscriptions.
Free to join but you need to apply to be accepted.
18. EIR Health
The Cannabis industry has exploded over the last few years with new businesses scrambling to create and sell THC/CBD-infused goods to consumers globally.
EIR Health sells premium CBD products to consumers in 30+ countries with 72-hour shipping windows.
What struck me immediately after checking out their site was the perceived quality of the product. The attention to detail is clear to see and their reviews speak for themselves.
Noteworthy points:
A generous 20% commission on all sales made.
60-day cookie life
19. PHEN 375
PHEN 375 has been going for 10 years and see they're still going strong in the market. They've amassed over 219,827 customers globally and offer a generous commission rate for a physical product.
They create weight loss pills that suppress appetite and help people burn belly fat.
Noteworthy points:
Generous 60-day money-back guarantees for customers.
The average conversion rate for target keywords is 25%.
A respectable 45% commission rate.
Related Content: Is eBay Partner Network an affiliate program worth your time?
Discovering your own affiliate programs
Knowing how to do your own research and find the best affiliate programs yourself is an important part of being an affiliate marketer.
Although I've curated some totally awesome programs (if I may say so myself) 😜, I recommend doing some digging yourself.
An easy way to get started is to simply search using Google.
You'll want to have a rough idea of the type of product you'd like to promote before you start searching.
Let's say I'm looking to promote designer clothing on my blog.
Here's what I'd start off searching:
"designer clothing affiliate programs"
Here's what I found:
It really is that simple!
Use your imagination when searching for affiliate programs, you'll be surprised what you can find through some basic search queries.
Another way to find them is to sign up to popular affiliate networks, which bring me to my next point…
Using Affiliate Networks
Affiliate networks are middle-men between affiliates (you) and merchants.
On the merchant side, they usually do all the heavy lifting when it comes to sales tracking, payments and support.
It makes it easier for businesses to set up affiliate programs and allows them to reach more people looking to promote their products.
On the affiliate side, they provide all the information you need for each program in curated lists that can be customised to your preferences.
Affiliate networks can be a great way to find companies that you wouldn't come across through Google searching.
Some popular affiliate networks include:
Reditus
Reditus is a network that focuses on Business To Business Software companies. This means you can earn recurring commissions which are higher than B2C products. A real great market to start referring companies in.
It is one of the few networks which also offers live chat support to the partners, when you have any questions they will make sure to help you quickly.
Reditus is definitely the place for you if you are looking to start referring software, more particular; B2B SaaS. Check out their marketplace now to see which companies you can start referring.
Joining Reditus is always free as an affiliate.
CJ Affiliate
CJ Affiliate (formerly Commissions Junction) is one of the top networks for both affiliates and publishers alike. A quick browse on their site reveals a laundry list of big brand publisher partners — from Time to Kiplinger and Wirecutter.
What's more, CJ offers some of the most advanced customer journey tracking on the market with cross-device targeting and GDPR-friendly cookieless tracking.
CJ is the place to be if you're a brand looking to recruit high-value affiliates to promote your products/services. They come highly recommended.
You can
go here to discover more about joining as an advertiser.
Rakuten Marketing
Rakuten has been voted the number 1 affiliate network for six consecutive years, they must be doing something right! Right?!
They're known for listing top affiliate marketing programs and providing analytics for both publishers (affiliates) and merchants.
You'll find a huge variety of global retail brands from Walmart to Lacoste and Best Buy.
Clickbank
Clickbank is an extremely well-known affiliate network that focuses heavily on information products. When I first started affiliate marketing, this was the very first network I came across!
But you know what?
Popularity doesn't equal quality. The majority of products are dreadfully low in quality.
Sometimes you do find gems but it's more like a needle in a haystack than a regular occurrence.
Sorry Clickbank, you suck!
Moreniche
Moreniche is an affiliate network heavily focused on the health and nutrition industry.
These guys provide a fantastic range of merchants with ethical products you can promote. MoreNiche pride themselves on being transparent, honest and straight-forward.
If you're looking to promote products in the health and nutrition industry, Moreniche is a great place to start.
Sovrn (Viglink)
Sovrn (formerly called Viglink) is an affiliate network a little different from the rest. How? Because they automatically monetise existing links you have on your site with relevant affiliate programs.
This takes a huge load of manual labour off your plate if you have a large site with a heap of content.
On the flip side, they do take a big cut of your affiliate earnings — 25% to be exact.
Viglink was founded in March 2009 and acquired by Sovrn in 2018. The network has quickly grown to 250m+ daily active customers and over 60,000 companies, including popular brands like Amazon, Nike, and AliExpress.
Rounding things off
So there you have it! Enough information on affiliate marketing to make your head explode.
Don't worry if you feel overwhelmed, you've just had tons of information thrown at you.
This isn't something that'll be built overnight.
If I could share one piece of advice, it would be to decide on what you want and stick to that one thing.
The dabbling nature people tend to have is the single biggest reason for lack of results.
Affiliate marketing isn't easy, and it won't make you rich overnight. But if you align yourself with the right product, get the right training and execute on what you've learnt, there's no limit to what you can achieve.
—
I'm a London-born lover of technology, obsessed with online business, passive income and the digital economy. I love learning, researching and curating the most valuable resources to save you time, money and help you discover the truth on what it actually takes to achieve your goals.