It's frustrating, isn't it?
You're looking for a software tool that'll help you streamline your sales process, sell more products and grow your business.
But you end up spending stupid hours scouring the web, researching and comparing the features of software tools available.
Before you know it, you've spent the best part of your day, week (or even month) deciding on the tool you want to use.
As a business owner, you've got products to promote, clients to please and money to make — there's no time for faffing over software tools!
So just how do you find the right tool for your business, without testing fifteen different platforms and crying yourself to sleep over lost time? 😭
By getting feedback from other people of course!
And not just any old feedback from people using the tool you're looking at.
You want detailed and specific feedback from business owners operating in a niche that's similar to yours.
This is one of the best ways to understand how the product can directly benefit you.
With that in mind, I spent a considerable amount of time finding and asking people about their experiences with one of the most popular marketing tools — Clickfunnels.
Clickfunnels is regularly compared to a popular landing page builder, Leadpages (and Kajabi). So I thought I'd create this post to showcase both tools and show you the good, the bad, and the ugly!
A candid analysis of Clickfunnels and Leadpages
Now both Clickfunnels and Leadpages are incredible marketing tools in their own right.
But there are some significant differences between the two that you need to know about.
Differences that could save you a lot of time — and a lot of money.
From a personal standpoint, I've used an unholy number of software tools — from Optimizepress to Unbounce, Leadpages to Clickfunnels and PopupAlly… the list goes on.
I know, it's really really bad!
But the great thing about my crazed software tool obsession is I can share some valuable lessons I've learned with you. Lessons that'll help you make an informed decision on what suits you best!
So here's what you can expect in this Clickfunnels VS Leadpages case study review:
This is a comprehensive guide that'll (hopefully) answer all the questions you have before deciding on the right tool for your business.
Let's begin! 😃
What is Clickfunnels and how can it help my business?
Clickfunnels is a bootstrapped $360 million dollar SAAS company built from the ground up by a guy called Russell Brunson.
When I say bootstrapped, I mean Russell built this company and got it to where it is today without any outside funding.
Not even a dime.
Learning about Russell Brunson and his story is enough to inspire you to use Clickfunnels as your go-to software tool for (almost) everything marketing.
But this is about Clickfunnels, not Russell — so here's the gist:
Clickfunnels is a software tool that leverages the power of sales funnels to help you capture leads, sell products and automate your entire marketing process.
It's a platform that equips you with simple, flexible and powerful tools that help you grow and scale your business without wasting weeks of time figuring out all the technical stuff (or worse, hiring a developer for thousands of dollars).
In their words, it's a platform that "takes the power back from the tech guys" by giving anyone the ability to build pages inside funnels that are proven to convert.
This hilarious promotional video they released does a great job at describing the fundamentals of the tool:
What is Leadpages and how can it help my business?
Leadpages is a powerful software suite that helps you create beautiful landing pages — pages designed to get visitors to take one specific action, like subscribing to your email list, signing up for a webinar or purchasing your product.
They're one of the only platforms that let you collect leads from not just landing pages, but popup-forms, social media, text messaging and email.
Leadpages is heavily focused on the front-end of marketing — generating leads and increasing your conversion rates for visitors that sign-up to your email list.
From a technical standpoint, Leadpages is very similar to Clickfunnels with super user-friendly drag and drop page builders along with the ability to create high converting squeeze pages in mere minutes.
Here's a video that explains more:
What's the difference between a landing page and a sales funnel?
If you're fairly new to the digital marketing space, you may find terms like "squeeze page" and "sales funnel" a little confusing.
So let's clarify the differences between the two:
A sales funnel is a series of powerful steps you walk a prospect through to sell your product(s) or services.
A landing/squeeze page is a webpage that is optimised for a specific action (usually to obtain a name and email address).
A sales funnel will contain landing pages. Think of a sales funnel as a series landing pages, each optimised for a different action.
Here's what a typical landing page looks like in Leadpages:
Here's an example of a basic sales funnel:
This is what's known as a "free plus shipping" funnel. It's a creation of the sales funnel genius, Russell Brunson.
This funnel is incredibly enticing because it offers a product for free — the buyer just pays for shipping.
Before the customer is shown their order confirmation, they're presented with a special one time offer – also known as an OTO page. This further increases conversion rates because of the exclusive nature of the offer.
Understanding the power of sales funnels
Understanding how sales funnels work can mean the difference between making $1000 or making $10,000 a month.
Seriously.
Most businesses have a sales funnel that they use to sell their products and services to consumers. These funnels usually offer a low-priced or free offering at the top and gradually introduce higher-priced, higher-value products to the leads that come through the funnel.
This back to basics diagram explains how sales funnels work…
Sales funnels work like magic because they help build relationships with customers and offer a taste of your products/services without large upfront investments.
Introducing your high-end products when your prospect barely knows you is like proposing to someone on your first date — it's just weird!
Why these entrepreneurs use Clickfunnels, not Leadpages
I'm a self-confessed sales funnel fanatic.
So I'm a huge believer when it comes to using funnels to grow your business. And Clickfunnels is the best tool on the market for that right now.
But don't take my word for it.
Check out what these entrepreneurs have to say about it instead:
Ross Simmonds
Ross is a marketing consultant, author and public speaker. He's also the founder of Hustle & Grind (eCommerce store for entrepreneurs).
Here's what he had to say about Clickfunnels:
What made you select ClickFunnels over the other tools out there?

"The key factor in us choosing ClickFunnels was it's ability to serve as a one-stop-shop for all of our landing page and funnel building needs. All of the features they offer, and the simplicity of their drag-and-drop page builder, combined with the membership cost, were too tempting to say no to."

How has ClickFunnels helped you in your business?

"Since switching over to ClickFunnels, we've seen our list building efforts increase exponentially. In just six months, we've been able to double our primary email list and increase revenue significantly. We also have a few major projects in the developmental stage that ClickFunnels will be playing a key role in."

What's your favourite thing about ClickFunnels?

"The ClickFunnels page builder was created for the business owner that's always hustling and needs a quick and easy tool to speed up their landing page creation process. The combination of high-converting templates and easy to use drag and drop editor have made list building a much quicker process."
Lacey Baier
Lacey is a full-time blogger and owner of A Sweet Pea Chef.
An inspiring food blog full of creative recipe ideas from banana chocolate muffins to chicken cauliflower-fried rice and everything in-between!
Here's what she had to say about Clickfunnels:
What made you select ClickFunnels over the other tools out there?

"It was recommended to us from another business owner and after testing it out we found out we could use it to replace both a shopping cart software, sales page software and optin software all in one for less money."

How has ClickFunnels helped you in your business?

"Allowed us to setup sales funnels pretty easy which account for 10% of our revenue."

What's your favourite thing about ClickFunnels?

"Easy to setup sales funnels or optins and test if things work. Plus it integrates with our email provider pretty easy."
Daniel Burrus
Daniel is a keynote speaker, business strategist and strategic advisor to many executives from Fortune 500 companies. His company, Burrus Research helps businesses develop successful competitive strategies based on the creative application of leading-edge technologies.
Here's what he had to say about Clickfunnels:
What made you select Clickfunnels over the other tools out there?

"We read the book DotCommSecrets and Russell Brunson was highly recommended by a consultant we were working with at the time. When we previewed the platform, it seemed straightforward and easy to use."

How has Clickfunnels helped you in your business?

"It has helped us better expose our products, better up-sell opportunities, packaging options and easy interface options for users."

What's your favourite thing about Clickfunnels?

"The design interface is simple to create with and implement and it integrates nicely with our WordPress website."
Mitchell Piper
Mitchel is the marketing director for ASTPS — a non-profit organisation that helps people resolve tax issues with the dreaded IRS!
Here'sd what he had to say about Clickfunnels:
What made you select Clickfunnels over the other tools out there?

"It's really easy to use and integrates nicely with the other tools I have, even though you could theoretically run your entire business through their platform. Plus I like Russel. I like that they don't have venture capital and made it all on their own. Even if Leadpages looked exactly the same I'd still choose Clickfunnels."

How has Clickfunnels helped you in your business?

"I can make great looking pages very quickly on my own and don't need to hire outside consultants."

What's your favourite thing about Clickfunnels?

"I love the ability to easily create upsells. I'm not a coder at all and the ability to create complex funnels and resulted in tens of thousands of extra dollars every year we were previously missing."
Mark Sieverkropp
Mark is the JV manager for Matt Mcwilliams Consulting — a company that helps businesses make more money from their affiliate promotions.
Here's what he had to say about Clickfunnels:
What made you select Clickfunnels over the other tools out there?

"Several reasons…I had talked with one of their reps at a conference I went to and I really appreciated the way they approached online business… I felt like they were "my people"…meaning they looked at online business like I did..they were fans of marketing and they were always trying to improve. I'd also had several friends who used ClickFunnels and spoke highly of it. Finally I figured there was a free 2 week trial, I might as well give it a shot and see how I liked it."

How has Clickfunnels helped you in your business?

"ClickFunnels has been HUGE for our business, just the ease of being able to create upsell sequences, membership sites for mini-courses and sell products has been game-changing. What used to take us several hours to set up several different pages in Leadpages we could now do in under an hour in ClickFunnels…AND it was organized in a way that we didn't have to between different pages just to set up a "funnel"."

What's your favourite thing about Clickfunnels?

"The ease of use. There is a definite learning curve on the front end, but now that I know how to use the program, I am confident in being able to create any type of page or funnel that we need for our business in a very short amount of time. I was able to create a JV recruiting page that we used to recruit several hundred affiliates for a recent launch we ran…and all in, it took less than an hour. That's a game changer for us!"
Clickfunnels VS Leadpages – how do they stack up?
The battle of the marketing tool titans starts here. In this side-by-side comparison, you'll discover some similar features between the tools, but more importantly, you'll see what sets them apart and how that translates in terms of value for your business.
Let's dive straight in!
Landing Page Design – which one looks best?
Visual design is a subjective experience. What looks gorgeous to me might look ghastly to someone else! So it's non-starter trying to decipher which platform has the "best" pages.
That said, the best thing to do is show you what they look like so you can make up your own mind.
Landing page templates provide the baseline for your conversion masterpiece, so they need to be good!
And you'll be glad to know that both platforms have an extensive range of templates in their libraries.
Let's start with Leadpages:
The first thing you'll notice with the Leadpages templates is the split between "Drag & Drop" and "Standard" templates…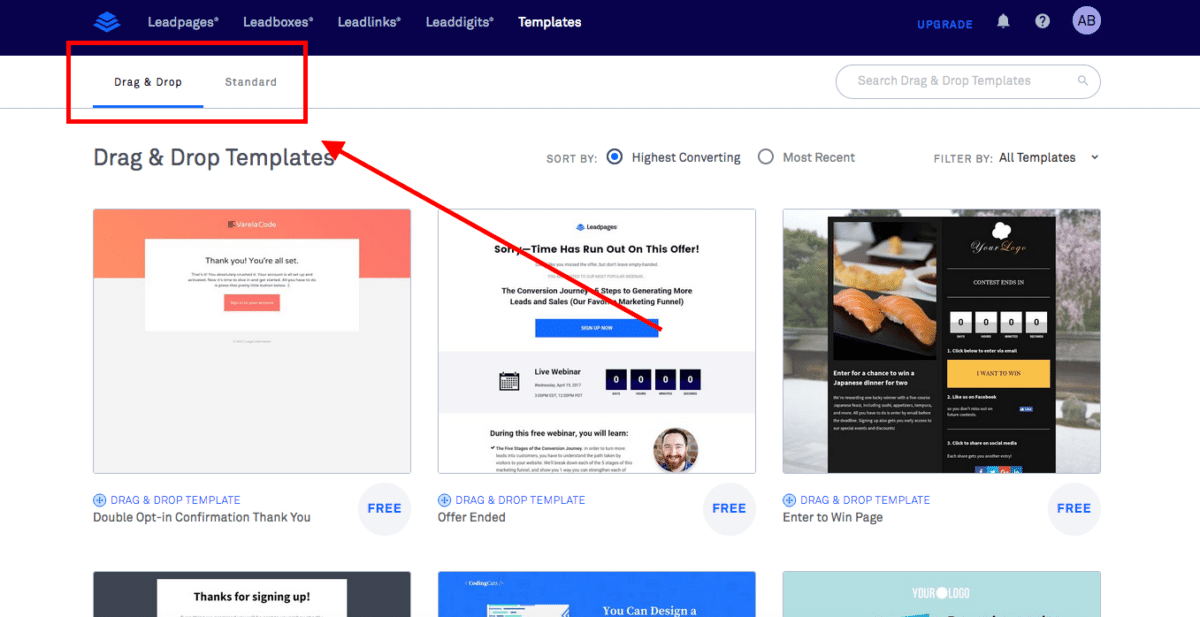 You can switch between these tabs to display both sets of templates. The "Drag & Drop" templates are a new set of templates and page builder features that make it easier for you to create pages in a shorter space of time.
Leadpages offers a combined total of 271 landing page templates…
Enough for you to procrastinate for hours!
Realistically speaking, you'll probably only use a small handful of templates, but it's nice to know they have the volume there.
One thing I like about Leadpages templates is the ability to sort by the highest converting landing pages. These pages have been tested by the team at Leadpages to convert really well.
That said, it's a fairly arbitrary metric because what might work for weight loss, might not work for consulting.
The copy you add to the page also makes all the difference — so take the "highest converting" option with a pinch of salt!
Here are some popular Leadpages landing pages:
Now, let's move onto Clickfunnels pages:
Clickfunnels is structured quite different compared to Leadpages. As mentioned earlier, they don't just do landing pages, they offer entire sales funnels out of the box.
So instead of just selecting a landing page, you choose the type of funnel you want to build — based on the type of promotion you want to run.
Check it out:
Pretty sweet, right?!
You get access to 21 types of sales funnels. Each come with their own matching sequence of pages batched together. Within each of these funnels, you can select the landing page design that you want for your business.
For landing pages, you have a range of free choices available, as well as some paid funnels that other Clickfunnel users have created and tested for high conversion rates.
For example, this real estate funnel has a proven 31.4% average opt-in rate and comes with an email sequence attached, along with training videos on how to set it all up.
In terms of landing page templates offered, Clickfunnels offers 190 landing pages split between Optin, Sales, Webinar, Membership and Affiliates. Then they have 30 templates specifically for Clickpops (pop-up boxes).
I love how the templates are categorised into specific sections, based on your requirements…
Here are three Clickfunnels landing pages examples:
Believe it or not, the last example is a webinar registration page (By Devin Zander from SMAR7 Apps) that converts at 92.46%!
Part of that is due to them using PROOF to boost conversions but it demonstrates the potential for insane conversion rates on your webinar pages.
The final design feature I really like is the ability to filter through funnels based on your industry…
This is a huge time saver and provides great insight into the type of sales funnels that are typically used in your industry.
User Interface — is it easy to use?
This is an important one for a lot of us. The last thing we need is a software tool that's is confusing, cluttered and too complicated.
Thankfully, both tools do really well in this area.
When you log in to Leadpages, the default dashboard page shows your existing landing pages and provides clear, simple options for you to create a new landing page, set-up a split test or explore the other features of the tool
Check it out:
Clickfunnels has a similarly friendly user interface with primary features segmented into separate sections at the top of the page and funnel analytics at the centre of the page.
The analytics compare page views, opt-ins and sales for multiple funnels, so you can see how your campaigns are going as soon as you log in.
Check it out:
The picture above doesn't show any analytics as I'm logged in to a new account (which is what you'd see when first getting started).
Clickfunnels probably have one of the best onboarding processes I've ever seen. After you sign-up, you're presented with a 7-day challenge consisting of 4 games that each have a number of steps to complete.
In these games, you watch a set of short video clips from Russell explaining the task you need to complete.
You'll be doing things like connecting your domain, setting up your first funnel and integrating your email list. Once you've finished these tasks, Russell sends you free stuff like stickers and even t-shirts!
The entire process is optional but it's an awesome way to get complete beginners familiar with the tool.
The Landing Page Editor – will it take me three months to figure it out?
Landing page editors have come a long way from a few years ago. In fact, Leadpages' "standard templates" uses an old editor that's more complex and less flexible than most other options out there at this point.
Thankfully, they've released their new drag and drop builder to make up for it.
Editing pages on both platforms is a cinch.
You can drag and drop existing elements onto different parts of the page and quickly add headlines, images and videos to your page through the menus on the side.
Both do a great job at making it simple and easy to create and edit your pages within the tools.
Integrations – what's supported?
Leadpages boasts a respectable roster of integrations — from popular email marketing tools like MailChimp, to CRM's like Hubspot and Salesforce.
In total, they offer 23 integrations.
Here's the full list: 
Clickfunnels really shines here with a staggering 38 integrations. They do particularly well with apps for e-com business owners — you can integrate your account directly with Shopify and Shipstation, making it easy for you to sell your products through their sales funnels.
Here's the full list:
Clickfunnels also offers Zapier integrations. If you're familiar with software tools then you've probably heard of Zapier. If not — it's a super useful tool that allows you to connect pieces of software that don't have native integrations.
So if something was missing from the integrations list, chances are, you could use Zapier to connect them all together.
Another thing worth mentioning is the extensive payment gateway integrations Clickfunnels offers.
You can connect your account to Stripe, Paypal, Recurly, Clickbank, Braintree and more, while Leadpages only offers a Stripe integration at this point.
Pricing – what will it cost me?
So you're probably wondering how the pricing stacks up with both tools and how that translates in terms of features offered.
Leadpages pricing starts at $37 a month and goes up to $199 for the advanced plan — but the advanced plan is only available on a yearly subscription of $2400.
The $37 a month plan is barebones basic that doesn't include core features like split testing, checkout integrations and Leadlinks pop-ups.
So you're probably looking at the $79 "professional" monthly plan for the features you need to make it worth your while.
Here's a detailed breakdown of the pricing:
Clickfunnels pricing offers a simple two-tiered pricing structure. It starts at $97 for the Standard plan and $297 for the full suite that includes Backpack and Actionetics.
For most of you, the standard plan will suffice.
Here's what it comes with:
Now, $297 is a lot of money to fork out every month. But in return, you get a tool that replaces almost every other marketing tool you're currently using.
You can ditch your email marketing, affiliate tracking and other lead generation software — you'll have your business running like a well-oiled machine in no time!
Features that are unique to each platform
Both Leadpages and Clickfunnels have features that differentiate them from each other, but it's Clickfunnels that really pulls forward in this regard.
Let's kick things off with the latter, this time around:
The mighty sales funnel
One of the key differentiators for Clickfunnels are the features surrounding sales funnels.
These funnels save you weeks of time figuring out the best way to promote your offer by providing proven formulas for specific objectives.
From lead magnets, to live demo and product launch funnels. There's something suited to everyone's needs.
You even have the ability to share your funnels with anyone else!
This is how people create funnels that work for specific industries and sell them to other people for a small fee (like the real estate one I showed you earlier).
Tailored Funnels
Another stand-out feature is the tailored funnels that you can purchase. These funnels go a step further in terms of customised use-case.
Selling beauty products on your e-com store? There's a funnel for that…
Digital agency looking for more clients? There's a funnel for that…
Selling health/life coaching services? There's a funnel for that…
You get the idea!
And to top it all off, many of these funnels have raving reviews from customers who've purchased and implemented them in their business.
Order bumps, upsells and OTO's
Clickfunnels works incredibly well for anyone looking to sell a product/service — as opposed to just generating leads. With this in mind, they offer features that help you skyrocket your conversions for your marketing campaigns.
Let's break them down one by one:
Order Bumps
An order bump is a simple feature that offers some kind of upgrade, right before a customer pays for a product. They usually come in the form of a checkbox paragraph right before the order button.
When Clickfunnels first tested this feature in one of their own funnels, they saw a front-end revenue increase of 30%.
This is huge for a lot of businesses.
Here's what an order bump looks like:
Upsell And Downsell Pages
Part of the beauty and wonder of the sales funnel is the ability to upsell and downsell customers with relevant products. This can instantly boost your average cart value and give you the ability to spend more to acquire new customers.
Most product upsells also double-up as one time offers — which further incentivizes people to buy through the power of exclusivity.
Actionetics
Actionetics is email marketing software — on steroids. It uses powerful data gathering tools to give create contact profiles populated with useful information you can use to better serve your subscribers and customers.
You can also create automations, set rules, send broadcasts and pretty much do anything your existing email marketing platform can do (In most cases, it does way wayyyy more).
A super cool feature of Actionetics is the action score. This is a score that's assigned to each subscriber based on four variables:
Recency
Frequency
Monetary value
Social score
Actionetics looks at all these variables and sets a score based on what it finds. This helps you identify how valuable subscribers/customers are to you.
This is gold.
Why? Because you can identify certain variables that are most valuable to your bottom line and spend more time with those leads.
You can even segment your list based on these variables and deliver entirely different messages to them with something called "smart lists".
Here's what an Actionetics contact looks like:
The specificity of segmentation is pretty mind-boggling, to put it lightly.
Case in point: 
Let's say you own a coaching business that helps people overcome OCD.
And you've created a VSL application funnel to filter through the people that are serious about your services.
Your funnel has a questionnaire that asks people questions based on the problems they have.
With Actionetics, not only can you segment your list and deliver hyper-tailored messages to leads based on their questionnaire answers…
But you can personalise your messages to prospects, based on things like job title, number of followers and yearly earnings.
Do you see how powerful this is?
Personalisation is king when it comes to converting leads into paying customers. And Actionetics takes things to an entirely new level in this regard.
Want to learn more about Actionetics? This video does an awesome job at explaining the concepts:
Backpack
Backpack empowers you with the ability to create your own affiliate program, from within Clickfunnels. This feature is totally exclusive to Clickfunnels — you won't find this with any other marketing software tool.
So if you have an offer that you'd like affiliate to promote, you can do this quickly and easily with Backpack's suite of affiliate tools.
Within Backpack, you can track affiliate sales, manage payments and set first/second tier affiliate commissions for your offers.
Also, you can add affiliate programs to specific funnels and customise them to your heart's content.
The possibilities are endless!
Leadpages unique features
Clickfunnels isn't the only platform with unique features, Leadpages has come a long way over the last couple of years by consistently improving and updating their software.
That said — Leadpages was MILES behind Clickfunnels a short while ago.
And despite the additional features that have been released over the last few months, there still isn't much that Clickfunnels doesn't do.
But let's cover what stands out for them at the moment:
Facebook Ads Integration
A new feature that released in November 2017 is the ability to quickly and easily create Facebook ads from your landing pages.
Leadpages is the only platform (at the moment) that integrates directly with Facebook's advertising platform.
The Facebook ads manager is notorious for being complex and confusing, so a feature like this is really valuable to a lot of people.
When you go to publish your landing page, you're given the option to create a Facebook ad…
After clicking "create Facebook ad", Leadpages pulls your image or video, copy and more, into the ad (you'll probably need to make some adjustments).
The whole point of this integration is to simplify Facebook ad setup.
And Leadpages further streamlines the process by creating a custom audience and connecting your tracking pixel to your page.
Custom audiences help ensure your ads are being shown to the right people.
Facebook uses existing data about your business to create these audiences for you. Again, you may need to tweak these but this is a great feature that'll help you figure out the most effective audience groups to target using Facebook.
Pre-populated form fields
Leadpages do a great job with pre-population. If someone has added their info to any of your websites (that you've linked to your Leadpages account) it'll automatically pull this information into Leadbox forms.
So instead of your lead adding their name and email address before hitting submit — life is made easier for them by prepopulating those fields.
A great way to boost your conversion rates by a few percentage points!
What sucks about Clickfunnels
While Clickfunnels is one of the best marketing tools out there, it's certainly not perfect.
There's definitely room for improvement in a few areas. And these things all relate to usability and user interface issues.
Some things worth mentioning are:
Custom domain limitations
Integrating your domain with Clickfunnels seems simple at first but gets pretty confusing.
At first, you assume you need to add a domain custom domain through the account section but the knowledge base states that you can only add your pages as subdomains of your website if you're running WordPress.
But then you find that Clickfunnels has a WordPress plugin that integrates just fine so you can add your pages to the root domain without any problems.
Weird!
Hidden templates
The average Clickfunnels user probably won't realise that they have access to hundreds of templates for their funnels. This is because the templates are hidden in a teeny tiny section called the "Classic funnel builder"…
Once you click through here and name your funnel, you're shown the extensive library of templates available.
Action score isn't reliable
When testing the Actionetics action score under a new trial account, I found that the score wasn't pulling through accurately when I was testing my funnels. It kept showing zero despite me matching the criteria for action scores of 50+.
Perhaps this was a one-off bug only I experienced but it's definitely something worth mentioning.
I also noticed that Russell talks about adding a piece of code for Actionetics in the explainer video but nowhere did I see an option to link Actionetics to my WordPress website.
What sucks about Leadpages
Leadpages also has a few sticking points worth mentioning.
Some of these are:
Not great for selling
You've probably noticed by now that Leadpages isn't great for anyone looking to sell products/services.
Leadpages do have checkout integrations so you technically can sell your products but it feels like they've just thrown it in to add to their feature list.
And it's very limiting because you don't have sales funnels or ample integrations for e-commerce stores to make it worth it.
It's just not designed for selling products.
Feature-starved in comparison
The team at Leadpages have done an excellent job at improving the platform over the last couple of years. But let's be real here — it doesn't offer anywhere near as many features compared to Clickfunnels.
This could be by design (because they just want to focus on lead generation for businesses) or because they're just lagging behind and trying to catch up.
Either way, they offer less in the way of features at this point.
Trouble with Leadboxes
When testing the Leadbox feature in Leadpages, I came across a couple of issues.
First off, I had trouble linking a Leadbox I previously created with a landing page hosted on my domain. I managed to get around this by creating another Leadbox and connecting it.
The second (pretty big) problem I had was super slow opening times for Leadlinks on my site. Leadlinks is a feature that lets you setup opt-in popups when people click on links in your posts.
But I suffered from a three-second delay between clicking and the pop-ups showing.
Enterprise integrations
Leadpages limits any CRM and some marketing automation integrations for only customers that pay $2400 per year on annual subscription plans. Clickfunnels offers all their integrations on the standard $97 a month plan.
Final words
This wasn't exactly an apples to apple comparison. Leadpages is clearly more focused on the landing page elements while Clickfunnels is all about sales funnels.
But when it comes to comparing any marketing software tool to Clickfunnels, Leadpages is the only thing that comes even remotely close.
That's why you'll often find they're often compared to each other when researching online.
So which one is better?
Well — it depends.
It depends on what you're looking to accomplish with your online business. If you're just getting started and looking to generate leads to build your email list, Leadpages will be a great option for you.
But if you're looking for a flexible tool that will help you grow and scale your business —  Clickfunnels all the way.
Want to hear my opinion?
I think Clickfunnels smashes Leadpages to pieces!
There's just no competition — and Clickfunnels is in its own league.
With all that said, you should now have everything you need to make a decision.
So what's it going to be?
Clickfunnels or Leadpages?
The choice is all yours.